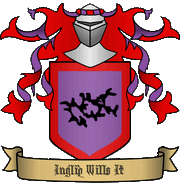 The Koprulu Fylkirate is an army of gropagas and slaads led by Fylkir Latya Koprulu, following the orders of the god Inglip, who have declared a war of conquest on eastern Romus.
The official language of the Koprulu Fylkirate is plasper.
Demographics
Edit
The army of the Koprulu Fylkirate is roughly 33,000 individuals strong, in the following proportions:
66% human
20% slaad
14% miscellaneous humanoid
Ad blocker interference detected!
Wikia is a free-to-use site that makes money from advertising. We have a modified experience for viewers using ad blockers

Wikia is not accessible if you've made further modifications. Remove the custom ad blocker rule(s) and the page will load as expected.