The Omorashi Empire is a rigidly feudal society of dark-skinned humans, ruled from Wang Port (population 25,000) by the wizened Scorpion Emperor, first of his dynasty (The heirarchy goes like this: Emperor > daimyo > samurai > artisans and merchants > peasants).
When Omorashi and Gus settled their respective territories, the sea had not yet fallen far enough for the land bridge to come into being, so they were separate continents, and their territorial claims came into conflict when the land bridge rose. So the situation between Omorashi and Gus, sharing the world's only land border, is tense, even belligerent, but there have been no outright wars.
The official language of the Omorashi Empire is Omorashi, also called the Spirit Tongue. The official religion is worship of the Ancestor Spirits.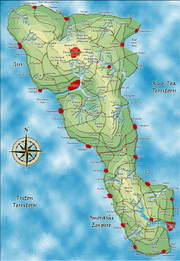 Demographics
Edit
The population of the Omorashi Empire is roughly 500,000 people, in the following proportions:
80% human
12% miscellaneous humanoids
8% miscellaneous animal-folk
Settlements
Edit
Wang, pop. 25,000, confirmed Mario's franchise
Joou, pop. 12,100
Sahr, pop. 8100, no Mario's franchise but a nice magic shop owned by a dude named Shang
Nyotaimori, pop. 6000
Nakon, pop. 4800: Daimyo Crab Son, confirmed Mario's franchise
Seifuku, pop. 4000
Ma Eul, pop. 3500
Iyarashii, pop. 3000
Tinh, pop. 2700
Basho, pop. 2400
Paaraa, pop. 2200
Etchi, pop. 2000
Meuang, pop. 1900
Ichi, pop. 1700
Chengshi, pop. 1600
Haose, pop. 1500
Machi, pop. 1400
Tokoro, pop. 1300
Nagar, pop. 1300
Chiho, pop. 1200
Zhen, pop. 1200
Yindang, pop. 1100
Ganv, pop. 1100
Kukan, pop. 1000
Xiangcun, pop. 1000
Seqing, pop. 900
Koy, pop. 900
Yochi, pop. 900
Lang, pop. 800
Laa Mok, pop. 800
Derp, pop. 800
Jangso, pop. 800
Kampung, pop. 700
Cusu, pop. 700
Baan, pop. 700
Noi, pop. 700
Mura, pop. 700
Xialiu, pop. 600
Moo Baan, pop. 600
Bor Riw Ayn, pop. 600
Zunzhuang, pop. 600
Danchi, pop. 600
Inaka, pop. 600
Xani, pop. 500
Shuraku, pop. 500
Nha, pop. 500
Thena, pop. 500
Bajsin, pop. 500
Jip, pop. 500
Bahay, pop. 500
Uj, pop. 500
Tatemono, pop. 500
Uchi, pop. 400
Sonraku, pop. 400
Bain, pop. formerly 500, now zero
Ad blocker interference detected!
Wikia is a free-to-use site that makes money from advertising. We have a modified experience for viewers using ad blockers

Wikia is not accessible if you've made further modifications. Remove the custom ad blocker rule(s) and the page will load as expected.